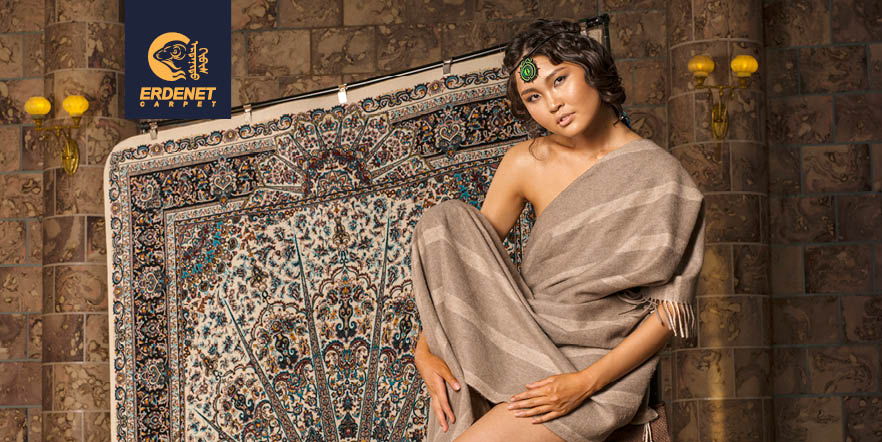 Mongolia's natural resources are not only limited to minerals such as gold, coal and copper – the country is also home to over 25 million sheep and 24 million goats. It is the world's largest manufacturer of cashmere fiber and is among the top five countries for its production of interior textile sheep wool.
From the ancient times, Mongolians have used carpet as an artwork to reflect the aesthetics, symbolism and traditional ideology. It is said ancient Mongolian nobleman and aristocrats enjoyed carpet for comfort at their palace, during ceremonies and feast, or even during hunting or fighting in battles. The carpet served as not only daily use, but also as an expression of nobility.
Today, Erdenet Carpet is proudly continuing this ancient culture of carpet weaving. The company is operating for its 36th consecutive year since 1981 and is now the largest carpet producer of Mongolia, solely accounting for 91.3 percent of the total carpet production in the domestic market.
As today's consumers are increasingly seeking out natural and earth-friendly products, pure wool carpet that the company offers is the ideal choice.
At Erdenet Carpet, Mongolian sheep wool, shorn and collected from the hands of the nomadic herders are processed from fiber to final product under one roof in its vertically integrated factory. As a result of centuries of harsh climate, Mongolian sheep wool has developed unique resilient characteristics, making them exceptionally suitable for making carpet and rugs to sustain under the heaviest traffic.
The pure wool carpet absorbs sound and heat very well, prevents from allergy, absorbs and neutralizes toxins in the air such as nitrogen and sulfur dioxide. The wool fiber is also not easily flammable. Most importantly, wool fiber is the most sustainable and renewable resource with a lasting lifetime. You can enjoy your wool carpet for up to 30 years.
Throughout the years, Erdenet Carpet has invested considerably in upgrading technology processes to be able to create new and enhanced qualities. The company offers over 2000 different designs in a wide range of color combinations, sizes, styles and different weaving techniques to meet individual tastes and needs, to both clients at home and abroad.
The company now exports its natural products to over 20 foreign countries in Asia and Europe including China, Japan, Russia, Kazakhstan, Germany, Australia, Canada and the United States. The undyed wool rugs which are made with use natural color yarn without using any chemical dye are gaining popularity in global market as completely eco green products.